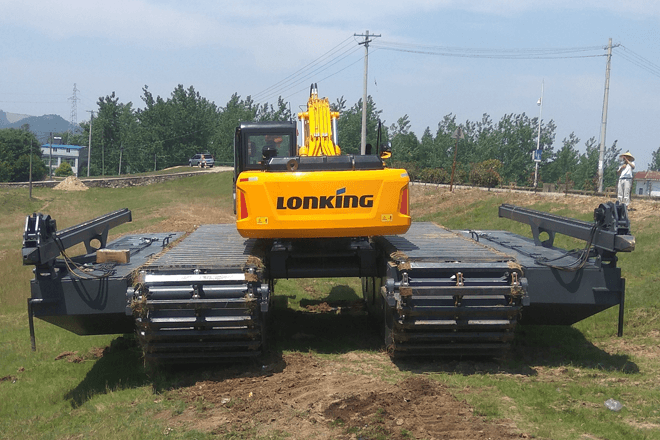 The 40-ton amphibious excavator is currently the largest model in the field of amphibious excavators. Play a role in flood control and flood control works, lake and shoreline maintenance clearing, and piling operations. It can also be seen in the mining industry.
40 Tons Amphibious Excavator
Suitable for multi-brand upper structure excavators.
Material : Q355B and above
Track Chains : Two or Three pieces
Travel Motor : Two or Four pieces
Optional match : Long boom, dredging pump, etc.
First acquaintance with amphibious excavators
The amphibious excavator/swamp buggy is specially designed to maneuver in swamps, swampy areas, and loose terrain, and it can also float on water as an added safety feature. Since he is converted from an excavator, he can access almost any terrain. Greater versatility is easily achieved when combined with the wide range of attachments we produce.
Extra Pontoon
Supplementary pontoons can be added on each side to make the whole floating pontoon form a square-like operating platform and enhance stability.
Hydraulic Spuds
Hydraulic spuds can overcome buoyancy in deep water, provide additional stability and enhance operability on the water up to 8 meters deep.
Extendable Function
Hydraulic extendable pontoon system offers the flexibility of narrow track width when fully retracted, particularly useful during transportation.
The 40-ton amphibious excavator usually cooperates with other dredging machines such as cutter suction vessels to perform engineering tasks. Although it becomes a giant after it is equipped with a pontoon undercarriage, stability and safety can also be fully guaranteed. The addition of side pontoons can turn it into a square platform for more difficult tasks.
Extendable and retractor pontoon system.
Three separate rooms per pontoon, hermetically sealed.
Three service manholes on each pontoon for easy maintenance and field servicing.
Hardened rollers and bushings for extended operating life.
Modular design for easy transportation.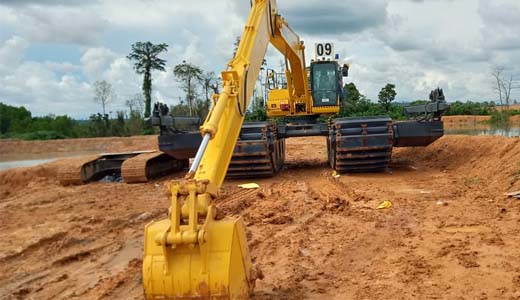 40 Tons Amphibious Excavator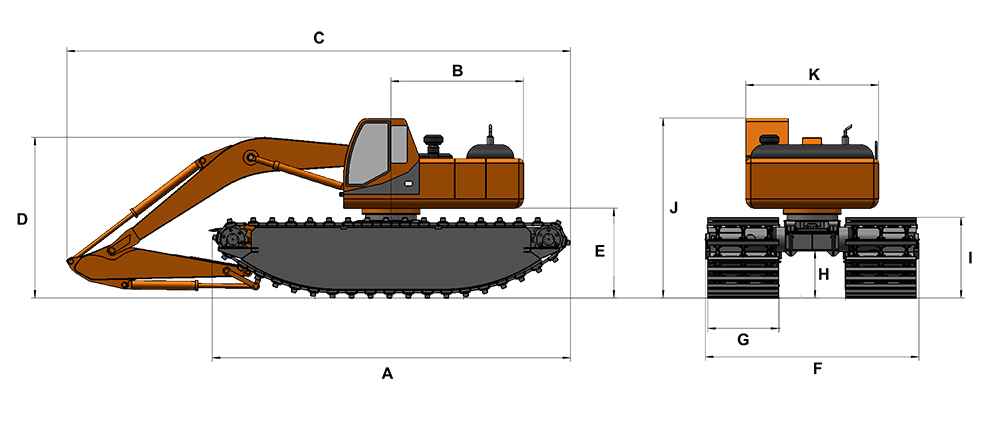 Length of pontoon (A)
11900 mm
Overall length (C)
14075 mm
Counterweight clearance (E)
2390 mm
Width of pontoon (G)
1970 mm
Height of pontoon (I)
2040 mm
Upper structure width (K)
2990 mm
Long reach front (Options)
H22/0.6 m³
Length of Rear upper structure (B)
3760 mm
Boom transport height (D)
4279 mm
Overall width (F)
6165 mm
Min. ground clearance (H)
1456 mm
Length of pontoons
11900 mm
Height of pontoons
2040 mm
Matched excavators weight
40T-45T
Width of pontoons
1970 mm
Length of pontoons
11900 mm
Height of pontoons
2040 mm
Matched excavators weight
40T-45T
Width of pontoons
1970 mm
Overall width
6165-7165 mm