We have done everything you care about in advance. Your most reliable Amphibious Excavator Pontoon Undercarriage partner.
About Us
Amphibious Excavator manufacturer
Our scale is not large, with an annual output of only 60 sets of amphibious pontoons. Because of this, we give maximum attention and the highest quality service to each customer.
In the years from undertaking the project to the design and production of the pontoon, we have grown together with our customers and established countless long-term cooperation friendships. We adhere to the concept of small and beautiful enterprise development, focusing on customer service and product quality improvement.
Today we separate production and service and set up an independent company to handle customer service and import and export procedures. The factory concentrates its energy on production.
We will bring 100% faith and 200% of quality assurance. WORK WITH us
Provide you the high quality work that meets your expectation
Who we are
Your reliable amphibious Excavator partner
From scheme design to production, to installation and maintenance, we provide a full range of services.
Scheme design for different working conditions
We can design a solution for a specific project, or provide the most applicable product portfolio.
workers and equipment are essential
With the production experience of the main brand of excavator, workers who honed in the industry for many years, and complete production equipment to ensure a smooth production process.
Long-term service is the key
The pontoon arrives in the hands of users, and the real business has just begun. Installation, use, and maintenance are the keys to maintaining long-term cooperation.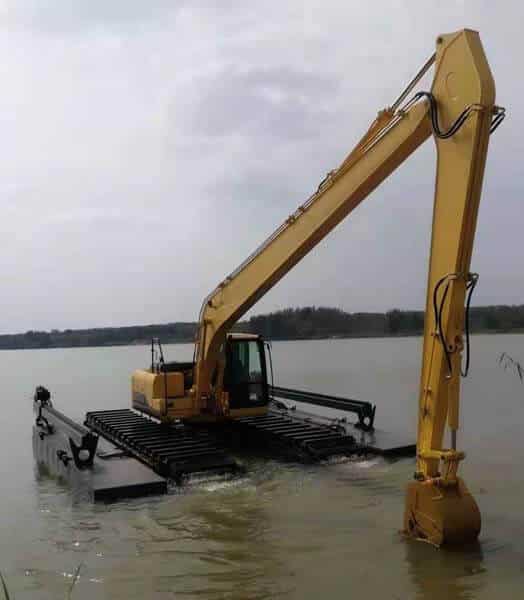 Gain experience from practice, undertake Japanese brand design concepts, and adapt to world-wide application scenarios.
Founded
Based on engineering, participate in dredging projects..
Amphibious pontoon
Through the accumulation of cases and experience, the product design is completed under the guidance of HITACHI experts..
Designated partner
Obtained the status of designated supplier and partner of HITACHI, KOMATSU, SHANTUI, DOOSAN and many other brands..
Business worldwide
Carry out market development activities all over the world..
Have a question?
Frequently Asked Question
If you do not find what you are looking for from the answers below about amphibious excavators, please contact us directly.
01. Is the bigger the pontoon the better?
We usually choose the appropriate size of pontoon according to different working conditions. For example, in swampy land, full floating is not required, and small pontoons are more flexible. If you need to fully float in deep water, you need to choose a large pontoon to increase stability, or even use a side pontoon to increase buoyancy.
02. Side pontoon needed for working in the swamp?
When working in swamps, the flexibility of the pontoon is more important because the silt causes great resistance to the excavator's steering. If the side pontoon is added, it will increase the difficulty of operation.
03. Can it work in water depths above 5 meters?
Our recommended working water depth is below 5 meters. If the customer's working conditions require the use of an amphibious pontoon above 5 meters, our suggestion is to investigate according to the actual situation and hire an experienced excavator operator.
04. How deep is it commonly used in water?
If the pontoon you purchased is not a fully floating type, the working water depth cannot exceed 1.5 meters. If you need to work in a water depth of 1.5m to 5m, we recommend using a full-float type pontoon and adding a side pontoon.
01. Can I use my own brand?
Our attitude towards brands is open. We also have strategic agreements with other excavator brands to use their brands. And for the local market, existing brands have a market advantage. In order to better serve customers, we tend to use the customer's brand to help customers establish a solid and reliable brand effect locally.
02. What documents can be provided?
We will provide you with the overall dimension drawing of the amphibious pontoon for easy transportation information. And various customs clearance and tax exemption certificates, such as CE certification, FormE, etc. Maintenance manuals, hydraulic system and accessories details are also available on request.
03. Can you guide the installation on site?
Since the installation of amphibious pontoons is very simple, we usually provide installation manuals and videos for customers to learn and use. Online training can also be arranged. If the customer really needs it, we can send engineering personnel to the site to guide the installation, and the cost shall be borne by the customer.
04. Can you provide maintenance training?
We will provide user maintenance manuals for customer inquiries. Since the amphibious pontoon is a non-standard product, the maintenance standards are not uniform and depend on the experience and judgment of daily users. If the customer really needs, we can arrange online training to guide daily maintenance.